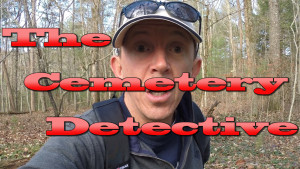 From underwater cemeteries to cemeteries in the middle of lava fields…from cemeteries with ten thousand gravestones to deserted cemeteries without a single marker…from cemeteries of the far northern tundra to cemeteries in the humid tropics…the cemetery detective has explored hundred of cemeteries all across the United Sates (and beyond).
Join Keith as he explores our nations most fascinating cemeteries.
See below for a few of my recent cemetery encounters.
Full cemetery archive is listed on the right. —>
---
The Journey Enhances The Destination
Rock Creek Cemetery – Polk County Tennessee
Nestled on a forested hilltop within The Cherokee National Forest Rock Creek Cemetery risks being forgotten forever. Even its proper name is in doubt as USGS maps, local residents, and descendants of those buried do not all agree on what to call it.
However, one idea on which we should all agree is this cemetery should be preserved as an important part of Polk County's history. With a Revolutionary War soldier, who served an important roll in Polk County's political backstory, buried there, maintenance should be easily undertaken. Who could begin the campaign to clean up Rock Creek Cemetery? A Revolutionary War heritage group or a few high school boys looking to earn an Eagle Scout Merit Badge could go do a proper cleanup job to preserve this piece of Polk County history.
As always, I believe the journey is part of the adventure. Rock Creek Cemetery is surrounded by the beauty of the Ocoee river valley. Join me as I seek out this culturally significant cemetery.
Rock Creek Cemetery – Polk County, Tennessee
---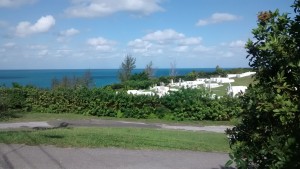 Cemeteries Of Bermuda – Part 2
We would like to thank everyone for keeping Keith in your thoughts this past week. Keith has just finished helping deliver a sailboat from Newport, Rhode Island to St. Georges, Bermuda. Readers of this blog know this is his second sailing trip to Bermuda this year. This latest voyage was VERY EVENTFUL as his ship sailed directly through Hurricane Kate. The sailboat sailed through 70+mph winds and 30+foot seas. It was treacherous weather. Other than a little seasickness, Keith and the rest of the crew pulled through safely. He is safe, on land, and has spent several days exploring most of the cemeteries of Bermuda.
Please subscribe to this blog and keep checking back with us for a full write-up of this latest cemetery exploration adventure. Until then, be sure to read about his other cemetery adventures.
"My tours of Cemeteries are always eventful. There's always something exciting to see either within the cemetery or on the journey there.
This latest adventure trumps all previous cemetery hunting trips. I would like to give a special THANKS to everyone who sent well wishes. I would also like to thank everyone who has sent notes after my arrival in Bermuda. We sailed through a Category 1 Hurricane in the North Atlantic. Winds topped 70knts and our sailboat crested waves 30 feet high. We are currently compiling all my records, pictures, and video. In the coming weeks we will release a documentary on the trip to Bermuda and my study of the cemeteries there. Until the documentary is complete, I will begin posting pictures and recaps from the cemeteries I visited on the island. Please check back regularly and please let me know if you have special interests in cemetery exploration."
Thank you all, again. – Keith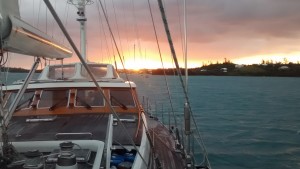 Arrival in Bermuda after sailing through a North Atlantic Hurricane.
Ready to explore the Cemeteries of Bermuda
---
BREAKING NEWS!!!!
August 2015
Construction halted at Beck Knob Cemetery in Chattanooga, Tennessee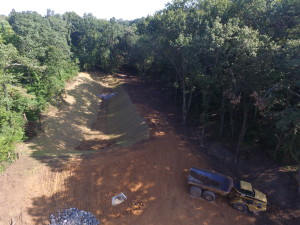 On a winding, hilly lane on the North Shore of Chattanooga's bustling waterfront community, construction crews, shaving red dirt away from a kudzu burdened hillside, discovered several carved headstones and field stones marking long forgotten grave plots in the Beck Knob Cemetery.
Construction has halted pending further investigation.
Beck Knob Cemetery – Chattanooga, TN
I am passionate about cemeteries and aim to keep them as places of well-maintained respect. One of the ways I do this is by teaching proper methods of plot maintenance, tombstone cleaning, and decorations for special days.
Visit the Grave Care website here: www.GraveCareBusiness.com.
---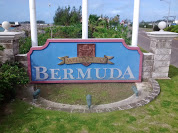 March 2015: The Cemeteries of Bermuda. The Cemetery Detective has just returned from the Island Nation of Bermuda where he explored many cemeteries. To view the video, click this link:
"The Cemeteries of Bermuda"
---
THE CEMETERY DETECTIVE
Subscribe to my YouTube Channel.
Read my Cemetery Blog.
November 2014: Cemetery Island
---
THE CEMETERY DETECTIVE
Join me on Twitter.
Read my Cemetery Blog.
October 2014:
Changing colors of sugar maples and a chilling nip in the air make autumn my favorite season to explore cemeteries.
October 2014 will allow me a bit of free time to share more of my cemetery adventures with you including recent excursions and a few speaking engagements in which I discussed the importance of proper cemetery preservation.
The first weekend in October includes a trip to Atlanta, Georgia and Nashville, Tennessee to explore those city's most historic cemeteries.
Check back soon for the latest updates.
---
THE CEMETERY DETECTIVE
Join me on Twitter.
Read my Cemetery Blog.
Cemeteries in the Spring of 2014:
I explored a cool, quiet sanctuary this morning. My footsteps echoed off the walls of the marble-lined hallways, color-filtered sunlight sparkled through a Virgin Mary stained glass window, and when I ceased to move an eerie silence engulfed me like a cool percale sheet on a summer's night.
With chilled skin I made way for the exit past columbaria and bronze memorials. The gelidity was fleeting, though, as summer's punch met me at the door. Ahhh….summer…..just one more reason I love being…..
THE CEMETERY DETECTIVE
Join me on Twitter.
Read my Cemetery Blog.
---
End of 2012 – Cemetery Year in Review:
And here we are at the end of another year. I visited a cold shadowy cemetery in upstate New York last weekend. As the sun barely crept above the horizon a few remaining leaves on bare trees rustled with the bone chilling breeze.
2012 was, yet another, busy year for us. We visited cemeteries all along the east coast. We also visited cemeteries in England, Scotland, and Wales.
What will 2013 hold? Well, we are already planning a cemetery hunting trip to Florida's middle latitudes in January. The summer will undoubtedly be hectic as we are exploring the idea of another "Cemetery Across America" tour.
Stay tuned
Update June 2012:
June is to be a very active month for The Cemetery Detective. He will be visiting England, Scotland, and Wales to learn more about British Cemeteries and the customs British families maintain in the care for their loved one's gravesites.
Update 01-04-2012:
2011 was an AMAZING year for The Cemetery Detective. He was able to investigate cemeteries from Maine to Hawaii. It is almost difficult to believe that 2011 has passed. Yet, 2012 promises to yield another bounty of interesting cemeteries. Check back on our blog often to learn about our cemetery finds.
Update 07-31-2011:
Between avoiding nurse sharks while hunting lobster and eating way more sushi than any human should, The Cemetery Detective has just returned from a trip to South Florida. He was able to visit a few cemeteries and will be sharing his thoughts on "intercostal waterway" island cemeteries in the coming days.
Update 06-01-2011:
The Cemetery Detective is back home (for now). After a month on the road visiting over 70 cemeteries in 11 states, he has MUCH work to do compiling photographs, GPS map tracks, and documentation notes.
The blogging now begins as he is set to share his cemetery detective stories with you. He has been scared off by Rattlesnakes, yelled at by cantankerous old ladies, and bitten by numerous unidentified insects. He has climbed mountains, crossed oceans, and traversed deserts all in an effort to bring you our country's most interesting cemeteries.
We hope you will check our website daily for almost constant updates for the rest of this summer.
Update 05-25-2011:
The Cemetery Detective is making his way back home. After a solid month on the road visiting state after state and cemetery after cemetery his trip is winding down.
My goodness it seems like such a long time since he has been on familiar ground but in a few more days he will once again see his homeland. This is where the real work will take place tabulating and evaluating over 60 cemeteries and reporting the results to you.
The Cemetery Detective is in New Mexico and has some great stories to tell including one of the most pathetic cemeteries he has ever seen.
Update 05-21-2011:
After an amazing research trip to Hawaii, The Cemetery Detective is back on the mainland and is enjoying Arizona's desert landscape. He was able to research and document over 30 Hawaiian cemeteries during an intense stay on Hawii's Big Island. The Cemetery Detective found cemeteries by the sea, high elevation cemeteries, and lava covered cemeteries.
The reverence of cemeteries as sacred ground is as strong in Hawaii as any other place The Cemetery Detective has ever visited and he is anxious to tell you all about his finding. Join The Cemetery Detective as he criss-crosses the United States in search for the country's most interesting cemeteries on his way back home: The Cemetery Detective blog.
Update 05-13-2011:
The Cemetery Detective is now in Hawaii on his cross country cemetery tour. He has visited over 20 cemeteries on the Big Island including one cemetery smack dab in the middle of an enormous Mauna Loa lava field. He has visited cemeteries all over the island and has made some amazing discoveries. Many cemeteries he has discovered are not located on his cemetery maps and he has found that many published coordinates for public cemeteries are wrong.
The Cemetery Detective carries multiple GPSs with him on his travels to confirm and reconfirm actual cemetery locations. He is updating cemetery GPS maps of Hawaii and he will be publishing his findings through this website.
We have been promising you updates for the last couple weeks and just haven't found the time to sit down and make the necessary updates. Please follow our blog for our latest cemetery finds: The Cemetery Detective blog. Please be patient as MANY updates are forthcoming. The Cemetery Detective has visited over 50 cemeteries on his cross-country tour and he has MANY exciting stories to tell.
Update 05-06-2011:
The Cemetery Detective is on the California coast on his cross country cemetery tour. He partied in San Diego during Cinco de Mayo and was even able to find a dusty 19th Century cemetery in the middle of the celebration. This cemetery is full of heros and villians with great stories about horse theivery and hangings in the town square.
If you are following The Cemetery Detective blog, please be patient as MANY updates are forthcoming.
Update 05-03-2011:
The Cemetery Detective has made his way to Phoenix, Arizona on his cross country cemetery tour. He is seeing some amazing southwestern cemeteries and has expressed a new-found love of southwest Roman Catholic desert cemeteries, grave markers, and roadside memorials.
If you are following The Cemetery Detective blog, please be patient as MANY updates are forthcoming.
Join The Cemetery Detective as he criss-crosses the United States exploring our nations' most interesting Cemeteries, Gravesites, and Burying Grounds.
Big plans are underway for our 2011 annual event.  Each year The Cemetery Detective raises awareness for America's countless abandoned, neglected, and vandalized cemeteries. This year, The Cemetery Detective raises awareness by riding a motor scooter across America visiting the most interesting cemeteries along the way.
The Cemetery Detective begins his adventure April 22, 2011.  His sights are set on finishing his ride in San Diego, California sometime in early May 2011.
With well over 150,000 cemeteries in the United States, The Cemetery Detective has plenty of interesting cemeteries to choose from.  As final preparations are being made, his support staff is helping him plan his route.  We'll let you know more, soon.
In the meantime, have you ever wanted to start your own Grave Care and Grave Site Maintenance business. If you love old cemeteries and interesting tombstones, watch the video below.